X Hops Series
XHops series is an ever-changing collection of experimental beer. From deep in the TG laboratory, brewed under the cloak of night XHops pale ale is an ever-evolving and experimental beer. Using constantly changing hop combinations not found in other TG brews, each batch marks a new chapter in our mad scientists' journey to create the perfect pale ale. Join us in the lab, raise a pint and cheer "give my creation life!"
Deep in the labs at TG, through the vaulted door, down the steps, and past the room labeled "Beware the Leopard" lies an experiment forgotten. For over a year it remained dormant, calculating the precise moment of return to unleash the ultimate blend of hops. Finally, escape! This unbridled force descends upon the unsuspecting Masses. Can you handle it?
Also Available from C.J.W., Inc
Maroon ABV 5.3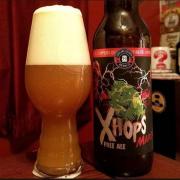 Tasting notes:
X-HOP GOLD: Medium, but very stable white head. Smell is intense, rich, tropical fruits, stone fruits, aromatic. Seemingly clean fermentation profile over a creamy maltyness (pale malts, of course). Taste is is reasonable balanced, but more towards the hops than an average Pale Ale. Soft in bitterness, highly aromatic in it's pale malts, but mostly fruity by the hops (stone fruits, bit tropical) Easy drinker. X-HOP MAROON: Taste is more bitter than other TG hops, with some woody pine and biscuit, sharp yeast, then plenty of citric-forward hops, attributing notes of kiwi, lemon, grapefruit and orange.